MK-F6045-1800W Floor Type Movable Flash Dryer
The product has a better price:
We are a factory that produces screen printing mesh. The more you buy, the cheaper your price.
Description
By adjusting the height of the dryig box , we can get the temperature we need .
The machine is mainly supporting multi-color rotary screen printing machine in the process of printing on products .It is conducted by flash drying, improve the efficiency of the printing.
The machine has a drying platform ,its height is adjustable, rotating , the platform can be used as substrates of the products finally drying.
| | |
| --- | --- |
| Product Code | 006281 (110V),006282 (220V) |
| Product Name | MK-F6045-1800W Floor Type Movable Flash Dryer |
| HS code | 8419399090 |
| Product Color | Black |
| Size of Drying Box | 24*18inch |
| Heating tube material | Stainless Steel Heating Tubes |
| Voltage | 220v/110v |
| Power | 1800w |
| Plug | American standard,National standard,European standard |
| Machine using material | steel plate |
| Machine surface treatment | Electrostatic spraying |
| Attachment material | Stainless steel or zinc plating, nickel plating |
| Net weight | 77lb |
| Gross weight | 82lb |
| Packing size | 38*21*11in |
| Packing volume | 0.14 m³ |
| Packing material | Export fumigation |
The functions and features of this machine:
1 ,The heating tubes adopts 1800w stainless steel heating tubes ,high heating efficiency,it can normally be used for about 10000 hours
2,The size of drying box is 45*60cm;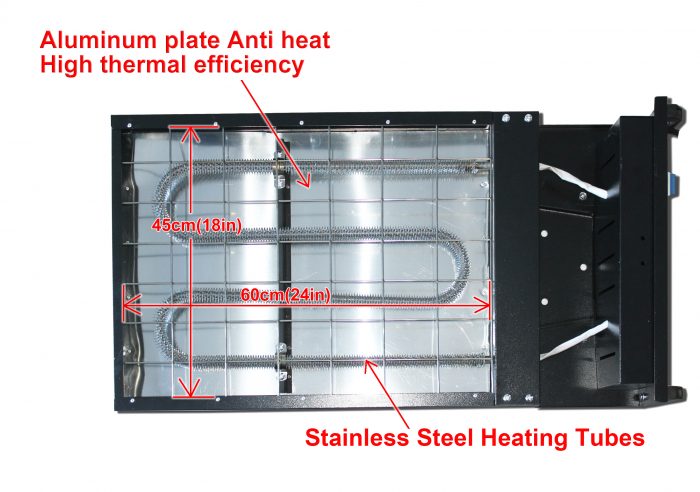 3, The temperature can be achieved by adjusting the height of the drying box , and the drying box can move 37cm from top to bottom.
4,  The bottom of the dryer is 68cm distant from the ground, the highest can be adjust to 100cm.
5, The machine is equipped with rotating drying platform with size 40*60cm, drying platform using nickel plated steel ; The height can be adjusted within 4 cm;
6, The back of the heating pipe is hot aluminum plate, its thermal efficiency is higher.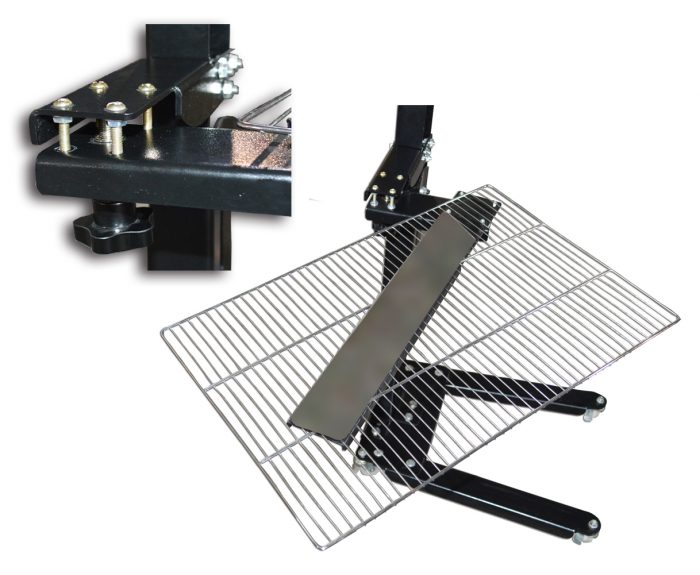 7, The bottom is equipped with casters , it can move arbitrary.
8,  Prepare for the full set installation tools, test thermometer and installation instructions.
How to use:
1,Move the dryer heating box to the top of the drying platform, turn on the power, start the heating.
2, Place the thermometer probe in the middle of the platform to start temperature measurement;
3.Observe the temperature showed in the thermometer after 15 minutes ;
If the temperature is too high; Adjust the height of the drying box ,if the temperature is too low ,shorten the height of the dryinig box with the platform to achieve the proper temperature .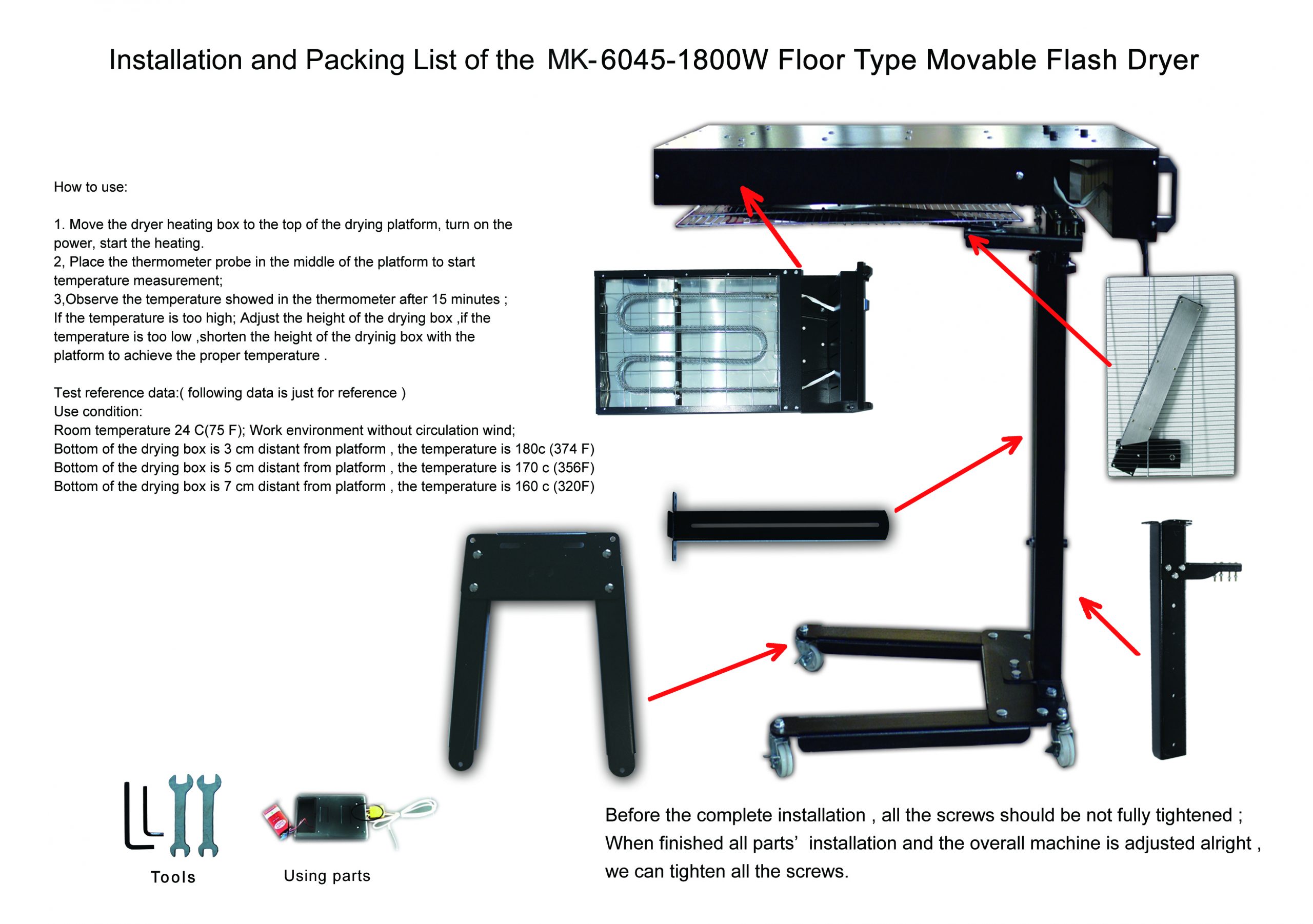 Test reference data:( following data is just for reference )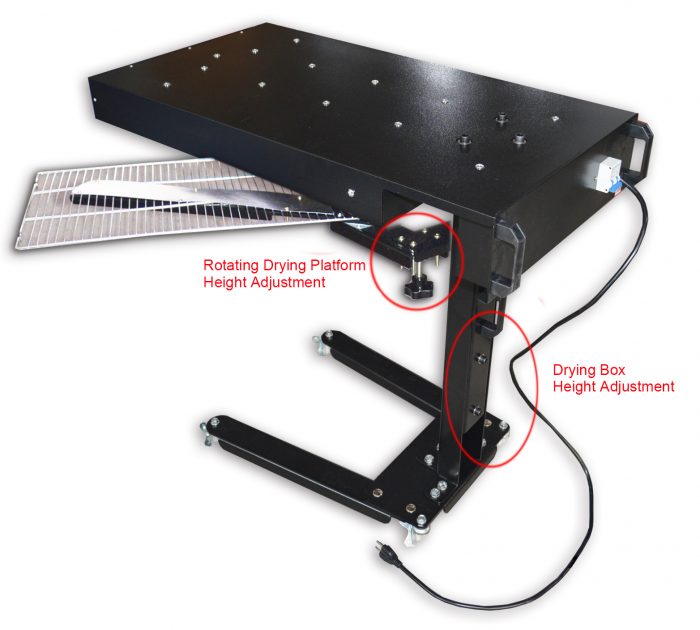 Use condition:
Room temperature 24 C(75 F); Work environment without circulation wind;
Bottom of the drying box is 3 cm distant from platform , the temperature is 180c (374 F)
Bottom of the drying box is 5 cm distant from platform , the temperature is 170 c (356F)
Bottom of the drying box is 7 cm distant from platform , the temperature is 160 c (320F)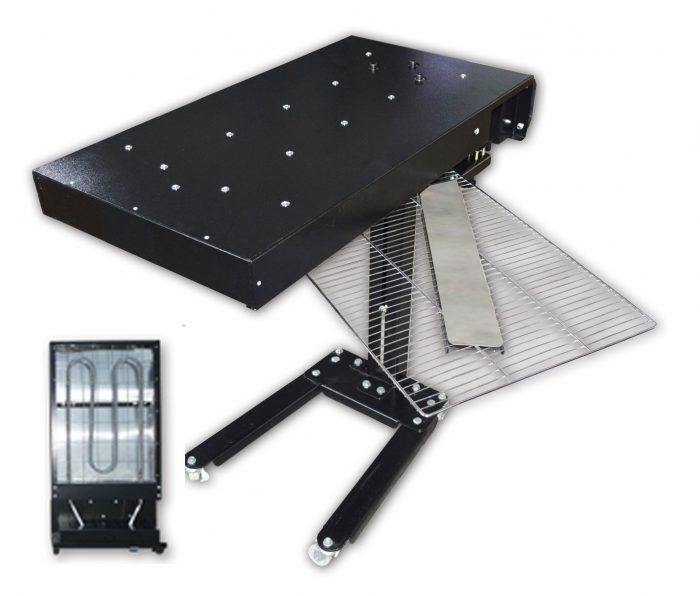 Pre: MK-T11A One Color Screen Printing Machine
Tags: