MK-FUCF40404-1600W Photoeletric control rotary four platform carbon fiber dryer
Description
The dryer has two functions :
Function one : Thoroughly dry the product that finished printing
Function two: it can support With rotary screen printing machine in the process of printing on products is conducted by flash drying (need to remove one or two drying platforms), improve the efficiency of the printing.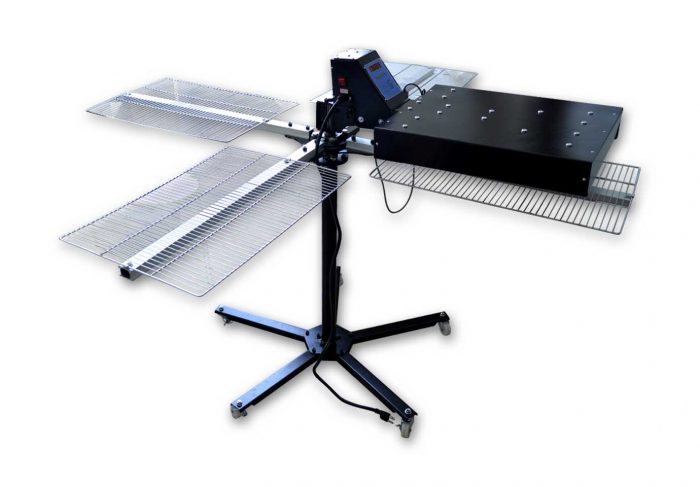 The functions and features of this machine:
1,The machine adopts 1600w carbon fiber heating tubes ,high heating efficiency, it can normally be used for about 10000 hours
2,The size of drying box is 40*40cm; the size of platform is 40*60cm.
3,The back of the heating pipe is hot aluminum plate, its thermal efficiency is higher.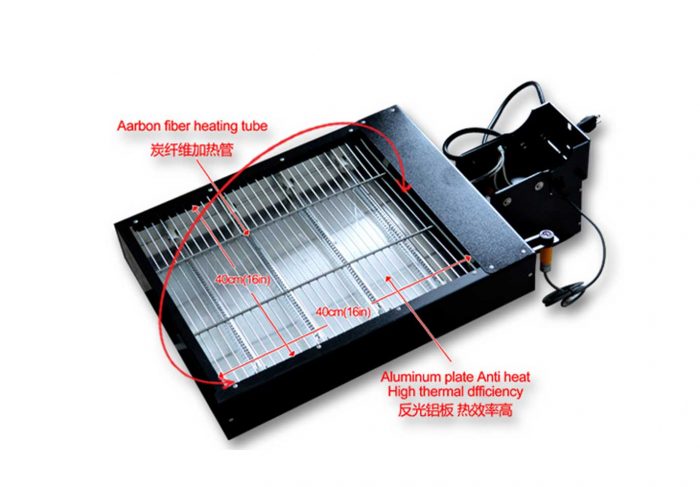 4,Four platforms can rotate in 360 degree .
5,The drying box can rotate in 360 degree and cna be fixed at any position .
6,The temperature can be achieved by adjusting the height of the drying box. The drying box can move 4 cm from top to bottom.
7,Adjust the horizontal angle of the dryer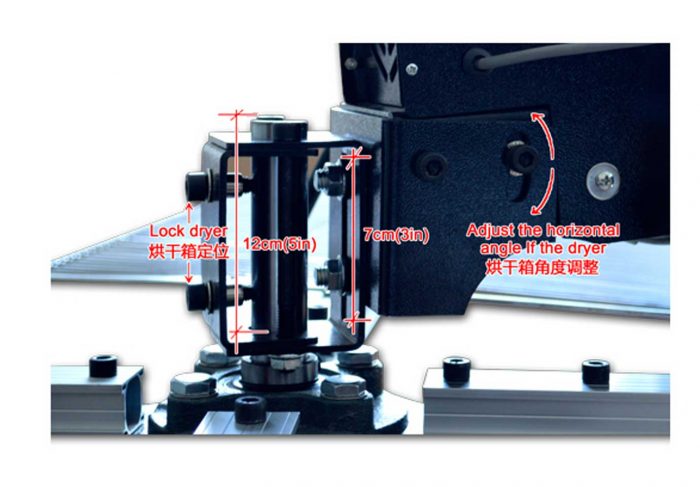 8,The bottom adopts five holders,and the machine is more stable;It is equipped with casters , it can move arbitrary.
9,Prepare for the full set installation tools, test thermometer and installation instructions.
How to use:
1,Move the dryer heating box to the top of the drying platform, turn on the power, start the heating.
2,Place the thermometer probe in the middle of the platform to start temperature measurement;
3,Observe the temperature showed in the thermometer after 15 minutes ; If the temperature is too high; Adjust the height of the drying box ,if the temperature is too low ,shorten the height of the dryinig box with the platform to achieve the proper temperature .
Auxiliary function: Support with rotary dryer in the process of printing surface drying
Use condition:
Test reference data:( following data is just for reference )
Room temperature 24 C(75 F); Work environment without circulation wind;
Bottom of the drying box is 3 cm distant from platform , the temperature is 180c (374 F)
Bottom of the drying box is 5 cm distant from platform , the temperature is 170 c (356F)
Bottom of the drying box is 7 cm distant from platform , the temperature is 160 c (320F)
Pre: MK-FUCF40401-110V-1600W Photoelectric control universal carbon fiber dryer
Next: MK-MC-1600W multi-color screen printing machine universal dryer
Tags: