Wood Screen Printing Squeegee
Description
Our Wood Screen Printing Squeegee is one of the heaviest wood handle in the screen printing industry, made out of popular wood imported. they are carved into a shape that provides a better ergonomic grip for the printers. two coatings of high gloss coatings are applied on the hard wood that makes these wood handles look better and enhance the water and solvent resistance to the wood. the hard wood and the coating help these handles to last longer. one of the great features of our handles is the barrel type bolt (female and male type) that makes it easier to change the squeegee rubber.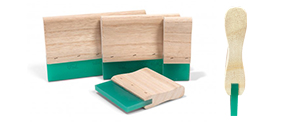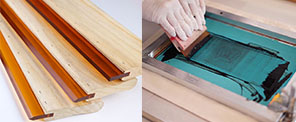 Wood Screen Printing Squeegee Information:
| | |
| --- | --- |
| Product name |  Wood Screen Printing Squeegee Handle |
| Material |  Natural rubber, Wood |
| Type | MK-PU100, MK-PU300, MK-PU500, MK-PU800 |
| Hardness | 55-90 shoreA |
| Eage | E1,E2,E3,E4,E5,E6,E7,E8,E9 |
| Color | Red, Green, Yellow, Coffee, White, Blue. etc customize |
Wood Screen Printing Squeegee Advantage:
1. Comfortable design, easy handling
2. Excellent resistance to abrasion and solvents
3. High resistance to heat and pressure
4. 65/75/80 Durometer for Oil Squeezer
5. Maintains a high resistance to abrasion.
Wood Screen Printing Squeegee Application:
The squeegee is popular in textile, decoration cloth printing. It is solvent and middle type pressure resistance.With good performance of resistance to abrasion and water base chemical ,long life with a perfect edge. It is used for low viscosity ink printing.Textile printing,Manual or automatic screen printing machine using. normal hand type printing, such as ceramics, decal paper, and packing materials printing.
Selecting the correct squeegee depends on your desired result.
To get the best screen printing result it is important to select the right squeegee for the job, 50 Durometer is the softest which flexes the most and allows the most ink to pass through the mesh, while 90 Durometer is toughest, flexes the least and allows a thinner amount of ink to pass through the mesh, 70 Durometer is the most versatile and popular in the industry and is great for general purposes.
Pre: Aluminum Screen Printing Squeegee
Tags: