1 color silk screen printing machine press
1 color screen press silk screen printing machine
1 Color Screen Press
1 color screen printing machine Parameter
1.Pallet Size: 17.7″x21.7″ (45x55cm)
2.Net Weight: 33Lb (15kg)
3.Gross Weight: 38Lb (17kg)
4.Package Size: 24″x20″x11″ (60x50x28cm)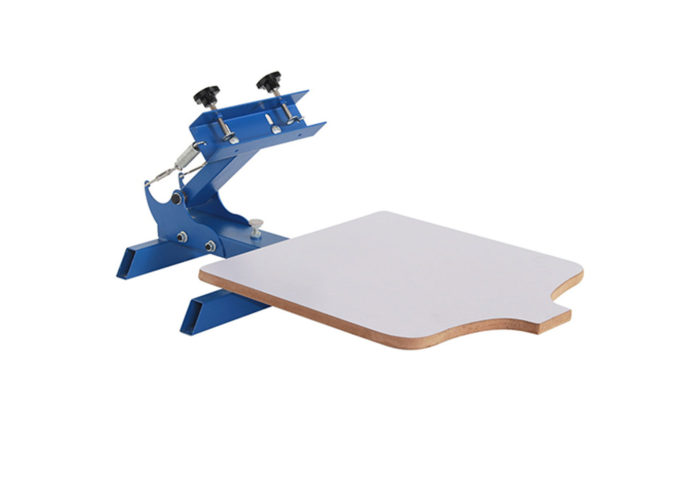 1 color screen printing machine Applications:
This machine is specially designed for one color T-shirt screen printing because of its dedicated T-shirt pallet which can guarantee the accurate positioning and good printing effect.
It can also be applied to printing on substrates which need overprinting, such as pillowcase, bag, non-woven bags and so on. The user can only change the pallet according to the substrates to satisfy the needs of different kinds of printing and it is easy to dismantle the pallet.
1 color screen printing machine Main Features
The pallet is removable; It can be adjusted in every direction, from forward or backward to left or right, up and down.
It's overprintable which is especially suitable for printing onto t-shirt, pillowcase, bag, non-woven bags and so on.
Special design of spring devices in screen adjusting up and down makes it easies for the user operations according to the sizes and weight of the screens, which guarantees proper spring intensity to avoid squeegees expelling and inks splashing in higher intensity and screen unfixing because of higher weight of screen frames and squeegees in loose intensity.
Screen clamp can be moved up and down, which is suitable for screen frame within 1.8″ (4.5cm) thickness.
It adopts full metal structure with parts of stainless steel materials, which is in advanced electrostatic spraying, elegant appearance, convenient in cleaning and no rust.
Composite structure & excellent packaging for convenient transportation.
Equipped with installation video, manual instruction, full set installing and maintenance tools and spare parts.
Pre: 1 Color 1 Station Screen Printing Press with 20″x 24″ Pallet
Next: 6-color 6-station screen printing machine with fine adjustment and stand 6C6S-Micro
Tags: